The magic of Africa continues to capture my soul. I recently returned from Namibia and it delivered way beyond my expectations. I was not prepared to fall in love with the country of Namibia the way that I did. This was not my first visit to Namibia, but I had only visited a few places in the south about 7 years ago. Namibia is a very large country, more like the size of California and Oregon combined, so it can be a challenge to have enough quality time to cover it all in just two weeks.  Most people visit southern Namibia, traveling to the more known landscape destination such as; Keetmanshoop for the Quiver tree forest, Luderitz for the ghost town,  and Sussusvlei for the red dunes. However, I had the yearning to take a risk, explore the north, and the road less traveled.
I was initially drawn to Northern Namibia to visit the Himba tribe and seek out the Desert Elephants, but I also want to explore creating a unique itinerary that covered a different part of Namibia. I have come to the point in my photography where I feel compelled to reach a little farther and take some risk to get those more unique images even if it means there is a chance I may not find what I am looking for. I also keep in mind that more than a photograph is the experience. Seeking out those rare photographic opportunities is the initial drive in why I pick a destination, but after returning home, it is the unique adventure that I cherish; Stories for the rocking chair!
I put in months of research before these type trips to ensure I will have the best chance of being successful. I enjoy this part of the planning as the excitement builds. As they say, getting ready for the party is half the fun.  Staying flexible on a trip like this is key and even after months of planning, I was presented with an opportunity that created big changes just weeks before departure. I took a big risk because I was going to be able to connect with a very experienced South African Guide who could get us deep in to Himba territory in a area where few have traveled. He was also very experienced at tracking the Desert Elephants and animals.
It was not until we met in Namibia that I discovered he was an extremely passionate professional photographer and filmmaker!!  Talk about winning the Lottery. You will hear a lot more about Piers L 'Estrange in the weeks to come, but as you hear me say often, your guide will make or break your trip. Piers experience and passion made this trip a huge success. He also did a lot of filming for me and patiently tried to help me get my own feet wet with shooting video with my 5DMarkII. This was going way beyond the call of duty! And I am hoping to team up with him again next year!
I am working on a trip report, but wanted to just touch base for now. Northern Namibia was extraordinarily beautiful with such a sense of solitude, spirit and awe!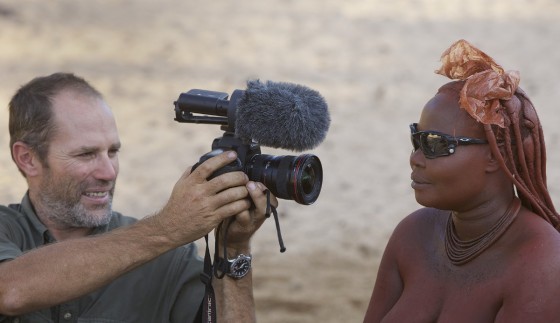 Piers filming a namibian women who is wearing his Oakley sunglasses.
To read a little more about the trip, read Andy Robbins Blog