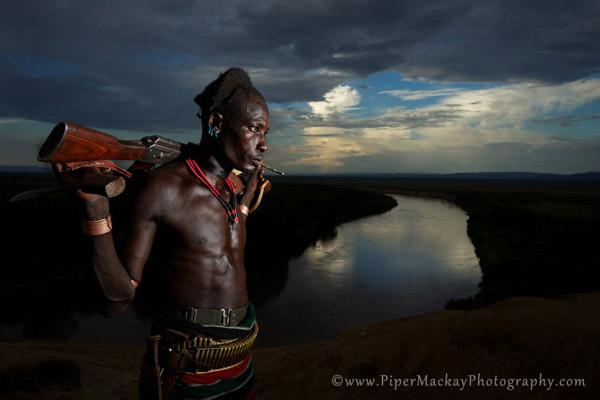 This is a question that comes up often in the comments of my post on FaceBook and Google+, particularly when I am posting photographs of the tribes in Africa. There is no one single right answer to this question; every situation is different. I know this is a topic many photographers struggle with, so I thought I would share my thoughts on this topic.
ON THE STREET, IN A MARKET, DRIVING DOWN THE ROAD –
When I am walking down the street, jumping out of vehicle, or roaming through a local market, I don't usually pay for photographs. I am photographing environmental portraits of everyday life as it is happening. I am not disrupting what people are doing; I am merely documenting what I am seeing. Handing out money in these situations promotes begging and has negative effects, changing behavior. It teaches the culture to harass every tourist coming to visit, even if they are just using a point and shoot or iphone to document and share their vacation/experience. It can be a little heart tugging not to hand out money simply because many of these people have little or nothing. The best way to help your heart is to donate to an organization doing good work in the area, prior to your arrival.
However, if I see someone interesting or someone doing something that caught my eye, and I ask them to repeat it, or take them away from what they are doing, I may give them a little something in exchange. This does not automatically mean this exchange is currency. It could be; printing a quick photo of them to and giving it to them, coffee, candy, razor blades (popular with the tribes), tee-shirt or some other desired item. In these situations, I prefer to barter with a materialistic item for rather than hand out cash.
IN A VILLAGE
When visiting a village, remember, you're a visiting someone's home and you are a guest. When I first come into a village, I like to arrive early to properly meet the people. Taking sometime to socialize with them before taking out a camera will make for a much more relaxed and welcoming situation. If time permits, I like to visit a village a head of time without my camera.
If I ask a subject to model for any length of time, and I intend to use the photographs for anything other than sharing with friends and family, I pay them. I respectfully try to make this a business arrangement and negotiate a price in advance, before pulling out my camera and shooting. You would pay a lot of money to a model in the western world, why would you treat the indigenous cultures you are photographing any differently? If a photographer/film company arrived at your home wanting to photograph or film how you go about your daily life, would you open the door and say. "sure, take as much time as you need?". Treat them the same way you would expect to be treated, with dignity and respect.
AT AN EVENT OR FESTIVAL
Again, each situation is different, but if I attend an event or festival where an advance fee or payment has been arranged, and I have permission to attend and photograph the event, I usually do not hand out money for photographs. That does not mean I will not be asked, but to hand someone money in this situation because they are hassling me, is the wrong action. I have made an agreement that should be honored. Situations like this can become tricky; having a great guide and relationships with some of the people who are attending the event, can be key.
However, similar to my philosophy on street shooting, if I find someone fascinating and take him or her away from the celebration, to pose for me, I might, make some kind of exchange.
PAYMENT CAN BE MANDATORY
From my experiences and observations, in most situations, it is the tourists who are changing the behavior of these cultures and not photographers; aside from the major impact of the modern world being thrust upon them. Most photographers have a curiosity and fascination about the subjects they photograph. They want to spend time socializing with them to learn about their culture and way of life and then begin to photograph them.
Sadly what I witness is that most tourist arrive at a village, take out their camera's, rush around for twenty minutes, grabbing as many photographs as possible, hand out money for every photograph, get in their cars, and leave. This may happen several times a day, especially when a remote area becomes popular because new roads create easier access. The result, the people have been treated like objects. They have been trained that a car full of people from the other world will arrive, take a few photographs and  hand out money. Over time, payment for photographs becomes mandatory. There is not much you can do to change this, once it has started, but how you handle this situation, can have a big impact not only on those your are photographing, but those coming behind you.
TIP
When planning a trip to photograph indigenous cultures, build time into your schedule to spend a morning, afternoon or evening, with them, without your camera. Bring a gift of coffee, tea, or sugar, but bring it as a gift, not in exchange for what it might bring you later.  This will not only add to your own experience, but your photographs will be more compelling. Remember, more than a photograph is the experience; one that you want to remember not only through the images you took. If you are not able to plan this much extra time, try to go with someone who already has established relationships with those you want to photograph. You may also want to travel with someone who has experience in these type situations before going solo.
ADVICE
These are just the guidelines I have created for those who travel with me and for myself; they may not fit your situation or values. This post is to help you make your own decision on what you feel is right. My philosophy comes from my experiences of working in the remote nomadic regions of Africa. There are many of you that follow this blog who have experience photographing cultures around the world. It would be great if you would share your experience, thoughts, and comments on how you handle paying for photographs. Together, as photographers, we can ensure that we try to handle this situation with respect and dignity to those we are photographing and be ambassadors for those following our trail.
It takes time to get a balance and create you own philosophy about  paying for photographs, but most importantly is to come from a place of respect and dignity.
Another article you may enjoy reading is  – How to approach street photography in 12 easy steps, by Valerie Jardin