June 24 – July 4, 2018
SOLD OUT – Add your name to the wait-list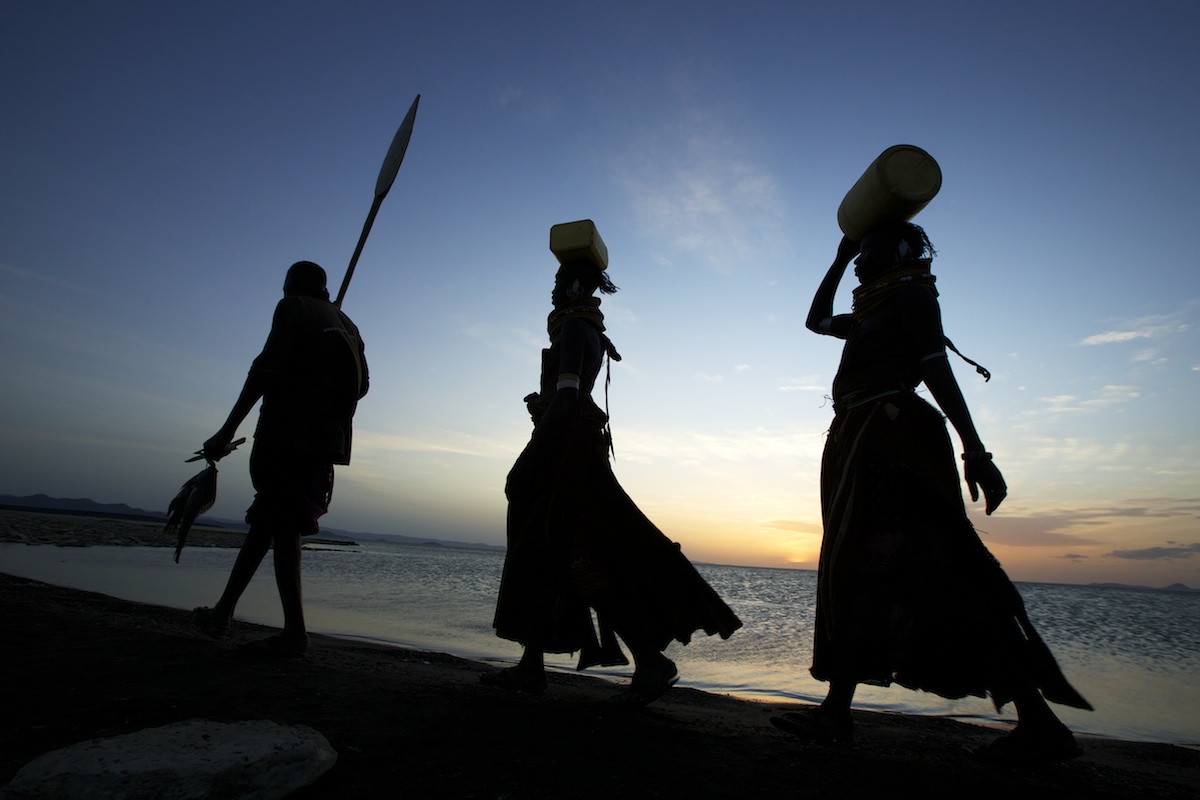 Africa is a tapestry of ancient cultures, exotic wildlife, dramatic ecosystems, and stunning landscapes, which are mesmerizing for the eyes, mind, and soul. This first-class photographic safari is built around one of the most breathtaking tribal festivals in the world. We also visit two of the top wildlife reserves in Kenya, which are home to the iconic Maasai and Samburu tribes. Nowhere else on the entire continent of Africa can I offer an itinerary with such a vast mix of exotic tribes and wildlife! You will come home with an amazing, diverse portfolio of exceptional images of Africa from just one safari, coupled with a mind-blowing experience you will talk about for decades!
Throughout this life-enriching journey, beyond the festival and wildlife reserves, you will visit several of the tribal villages at sunrise and sunset, enjoy an evening up in the hills with the warriors, experience the beautiful singing and dancing of the Turkana tribe with Lake Turkana as your backdrop, witness the ancient fishing ways of the El Molo, and photograph the tribal body painting of the Samburu.
TURKANA FESTIVAL
The Omo River feeds Lake Turkana, and the exotic tribes in the Omo Valley continue all the way down through the entire Turkana basin, where they have continued living their tradition lives for decades, if not centuries.
The Turkana festival was started as a way to unite the tribes as a community, and promote peace between them. As many as 14 different tribes/ethnic groups such as the Randille, Samburu, Turkana, Dassanach Gabra, Borana, El Molo, Konso, Sakure, Garee, and Waata walk for days to gather in a kaleidoscope of color, dressed in their most elaborate traditional clothing, beading, head ornaments, and paint made from red ochre. Each group will build their traditional huts on the festival grounds. It is fascinating to see the uniqueness of each hut when sitting side by side. Simultaneously, during the festival, the tribes will gather in their individual groups to play traditional instruments, sing, and dancing for hours at a time.
EXOTIC AFRICAN WILDLIFE
Kenya is also home to some of the most exotic wildlife in the world—a wildlife photographer's paradise. En route to and from the festival, we will visit two exciting photographic wildlife destinations, which are also home to the most iconic tribes in Kenya; the Samburu and the Maasia.
Samburu's arid, golden savannahs, lined with acacia woodlands, reflect the ambiance of what people envision when they dream of Africa. It is home to the rare Grevy's zebra, beautiful reticulated giraffe, the "red" elephants gerenuk, oryx, kudu, and the unique mane-less lions. Amboseli National Park is an incredible reserve where you can witness vast herds of elephants storming across dry, open plains. Imagine photographing expansive views filled with giraffes, zebras, and other exotic African wildlife, with Mount Kilimanjaro as a backdrop. 
YOUR GUIDE
Piper Mackay is passionate about high-quality images, but she also believes in providing an amazing African experience. She has spent 14 years photographing both wildlife and tribes throughout Africa, which is a place that stirs her soul. She will give informal instruction throughout the safari, especially on dramatic lighting situations, to help you capture stunning images that go beyond traditional photographs.
This safari is limited to only 8 guests. This allows for greater freedom, more flexibility, better group dynamics, and the feeling of a more personal, private safari. This photographic adventure is an extraordinary opportunity to photograph and experience Kenya's most exotic tribes and wildlife.
HIGHLIGHTS
Turkana Festival
Village visits to the Samburu, Maasai, Randille, Turkana and El Molo
Samburu Game Reserve, Amboseli National Park
Two private charter flights, with extra weight limits for your photographic equipment
Luxury accommodations in the wildlife reserves
Small group size: limited to only 8 participants
We have roomy, private 9 passenger open sided, 4X4 Land Cruisers with plenty of space for you to spread out with all your gear (2 vehicles in Samburu and Turkana and 3 in Amboseli)
"In reflection, I could not have asked for a better trip.  From sharing my deck one afternoon with an elephant AND a couple of monkeys at Elephant Camp to the utter joy of meeting so many kind and welcoming people in the villages, the lodges and the festival, I will never forget the beauty of Kenya. The hard work you put in to the logistics of ensuring we as photographers had great opportunities was very evident and appreciated. The rapport you've built with the many tribes made it easier for them to embrace us as they embrace you. Our drivers/guides were incredibly knowledgeable and simply wonderful people. I really hated to leave, so I understand how you have come to love this country so well.  I chose this trip for the opportunity for the combination of wildlife photography (of which I'd done very little) and the fantastic contact with these remote tribes. I would recommend it to anyone wishing to experience a once in a lifetime journey.  I'm thrilled with the images I made on this trip".  – Lisa Thomas
ITINERARY
Day 1, June 24, 2018
We will greet you upon your arrival at the international airport in Nairobi, Kenya.
You will be meet with a smile from a member of our ground team and transferred to your hotel by private vehicle. The Palacina is a beautiful African style boutique hotel in the heart of Nairobi. The perfect atmosphere to relax after your long journey, decompress from modern life, and get into the rhythm of Africa.
Accommodations: Palacina
Day 2, June 25, 2018
Today, you will awaken in a magical new world with the aroma of Kenyan coffee brewing. We will meet at breakfast for a briefing before heading to Wilson Airport to catch our flight to Samburu game reserve.
Our luxury tented camp sits along the Ewaso Nyiro River. The friendly, traditional Samburu tribe staff will greet us and give us a full briefing about the camp and area. As the name implies, the elephants stroll through the camp and in between the luxury tents. During midday, relax in the private plunge pool, on the deck of your tent, with a cold drink, and let the wildlife come to you. In the early afternoon, we will head out on our first game drive to explore this spectacular reserve.
Accommodations: luxury tents, Elephant Bedroom Camp
 Day 3 & 4, June 26&27, 2018
We will spend the next two days on safari, driving through this stunning African landscape seeking out the leopards, Grevy's zebras, reticulated giraffes, gerenuk, Oryx, common waterbuck, kudu, the unique mane-less lions, and the "red" elephants. The elephants exhibit a special red color from rolling in the mud of the river and dusting themselves with the rich, red soil, making for extraordinary images in golden light.
We will also spend an incredible evening, on the top of the hills, with the warriors of the Samburu Tribe. Originally part of the Maasai tribe when they first came down the Nile River, the Samburu split off when the Maasai continued their journey south to Tanzania. The name Samburu name means the butterfly people; they not only flew off from their original tribe, but they became more colorful in their traditional dress. This will be a very special evening where you will not only have the opportunity to create extraordinary images, but also have a unique experience that few others will have.
Accommodations: luxury tents, Elephant Bedroom Camp
 Day 5, June 28, 2018
We will visit one of my favorite Samburu villages at sunrise, creating a great opportunity to silhouette the warriors against the dramatic African landscape. You will have time in the village to enjoy a more intimate experience, where you will also be able to photograph their daily life and create some beautiful portraits.
We will return to our luxury camp for a late breakfast and then head out on a stunning drive through the Northern Kenyan landscape to Lake Turkana, the largest desert lake in the world. Known as the Jade Sea, your first glimpse of Lake Turkana is breathtaking. The Turkana Basin is one of the richest tribal regions in Africa. You will feel as though you have been transported back to an authentic Africa of bygone days. In the remote lakeside town of Loiyangalani, four tribes live side-by-side: Randille, Turkana, Samburu, and El Molo. During this time, up to eight other tribes will gather for the festival.
After checking into our lodge, we will head out to the shores of the lake to visit the El Molo, the smallest tribe in Africa. They are keen fishermen and crocodile hunters. The women are decorated with beautiful beadwork and are masters of weaving.
Accommodations: Malabo Resort
 Days 6&7, June  29 & 30, 2018
Over the next two days, we will immerse ourselves in the various cultures at the festival, along the shores of Lake Turkana, and in their villages. The festival will be a kaleidoscope of color, song, dance, rhythm, community, interaction, and photographic opportunities. Besides the unbelievable photograph opportunities, it will also be an unbelievable, authentic tribal experience.
Accommodations: Malabo Resort 
Day 8, July 1, 2018
We will have one last sunrise shoot with the tribes. After breakfast, we will drive to the private airstrip to board our private charter aircraft to Amboseli National Park.
Take a moment to catch your breath in this magical environment as we drive across the open plains to our beautiful Lodge. During lunch, we will relax and share stories of our amazing adventure, as the wildlife roams freely in the background. After lunch, continue to relax around the pool with a cold drink, or browse through all of the stunning images you have captured during the festival.
We will head out on our first game drive in the early afternoon.
Accommodations –Amboseli Serena Lodge
Day 9 &10, July 2&3, 2018
We will spend the next two days out on safari, in this incredible ecosystem that lies at the foothills of Kilimanjaro. In the morning, the herds of Elephants, Zebras, and Wildebeests slowly begin to come down from the mountains. Then, they cross the plains of Amboseli on their way to the marshes centrally located in the national park. The bird life along all the marshes and wetlands is superb.
We will also spend an incredible evening at a traditional Maasai manyatta. The Maasai are the iconic tribe of Kenya, but are not part of the Turkana festival because their territory does not venture far enough to the north. The big African rains should have just past, bringing long, plentiful grasslands, which means the warriors, with their long braided ocher hair and decorated bodies, will be in the village and not in far away lands with the livestock. The Maasai in the Amboseli area are unique because the men mark their high cheeks with a circular tattoo scarring. They will also spend time with us to give us insights into their struggles in living in harmony with and protecting the wildlife.
Accommodations –Amboseli Serena Lodge
Day 11, July 4, 2018
We will rise early for one last visit with the Maasai tribe at sunrise. We will return to the lodge for breakfast, check out, and game drive out of the park. Once back in Nairobi, you will be taken to the Ole Sereni, which sits along Nairobi National Park, where you will have dayrooms. You will be able to enjoy a leisurely afternoon reflecting on the amazing experience you had on safari; lie by the pool overlooking the park, take a nap, enjoy a delicious meal, and have time to clean up before your flight back home later in the evening.
Day rooms: Ole Sereni
 Is this trip for you?
This photographic safari is for anyone who wants to experience and photograph Kenya's most exotic tribes and wildlife. This itinerary is designed to give you incredible opportunities to produce high quality images of extraordinary subjects so we will be rising very early in the morning for the best light. This safari mixes luxury camps in pristine wildlife reserves with a remote tribal area where the accommodations are basic. This itinerary was created for photographers of ALL levels.
If you have not had much experience photographing tribes or indigenous cultures this is the perfect introductory trip for you. If you have had experience photographing tribes or indigenous cultures, you should find this experience to be one of the best. Some experience working with basic fill flash is recommended.
During our wildlife safaris we will see a variety of exotic wildlife, however some special subjects may require spending time watching their behavior and waiting for those special moments. This is when patience pays off, rewarding you with extraordinary photographs. We will spend a great deal of time and effort in the field—unless it is quiet and the light is too harsh—and we will return to our camp/lodge for the midday break. This means there may be several mornings and some lunches that will involve box meals that we take with us, rather than eating at camp or the lodge. We will be back at our camp/lodge for a nice dinner and drinks around the fire every night.
Since this itinerary is built to spend most of our time in the field, this is not a formal workshop. There will not be any planned lectures, slide shows, or formal instruction, but Piper is there to assist you throughout the entire trip. She is generous with her time and instruction and available for questions on any and all photographic topics including business questions on marketing, branding, and creating a niche. When there is an afternoon break, she will be happy to review your images, portfolios, or give an impromptu slide show or talk. This is largely why the group sizes are kept small: so that she can assist you when needed and spend quality time with you in an amazing location.
Piper Mackay Photography is dedicated to helping the people and wildlife that have inspired us and enriched our lives. We donate a small supply of food to each village we visit. We are mindful to select items that will have sustainability in the harsh environments where they live and are items the women use daily to feed their families such as cooking oil, ugali, maze, beans, etc We build strong relationships with these local communities to ensure our visit generates meaningful contributions to the local economies, especially those helping to protect wildlife, and to ensure a unique cultural exchange for both host and guest.
The Price
The price of this unique cultural and wildlife photographic adventure is  $9,795.00. This price is based on double occupancy.
Single supplement is $1, 295.00 " if available". Single accommodations are limited.
Due to the limited number of spaces available, if a solo guest is willing to share and we can match with another guest of the same gender, we will do so. If a solo guest is unwilling to share, then a single supplement will be charged. If we are unable to match a solo guest with another guest of the same gender, then the single supplement will be charged, but generally at a reduced rate.
***The cost of this safari is based on  7-8 participants. If there are less than 7 participants a small group supplement fee of $695.00 will apply.
 A USD $2,000.00 Non-refundable deposit is due at the time of registration to secure your spot. We highly suggest purchasing travel insurance that will refund your deposit if have to cancel your trip.
Payment Terms
USD $2,000.00 non-refundable deposit to confirm your place on this safari
2nd payment of USD $3,000.00 (plus single supplement if applicable) is due December 1, 2017
Final payment/Balance is due March 15, 2018
We highly recommend trip and cancellation insurance
Price Includes:
Turkana Festival
Village visits to the Samburu, Maasia, Turkana, El molo
Entrance fees and game drives in Samburu Game Reserve and Amboseli National Park
Private charters to Samburu and from Lake Turkana
Gratuities for all local guides, camp/lodge staff, porters, and security escorts.
All airport transfers on arrival/departure
Transportation and exclusive use of custom safari built 4-wheel drive Landcuriser vehicles,
All meals, except on arrival and departure days.
All accommodations as stated in the itinerary
extra weight allowance on charter flights 25-30kg total
What's Not Included:
Visas
Travel Insurance
Personal purchases (such as curious, spirit liquors, telephone calls, internet, laundry…)
Gratuities for the main driver/guides
Optional extra activities and photo excursions
Pre- and post-safari tours
Meals or accommodation before or after the safari
International flights to and from the African Continent
REGISTRATION & DEPOSIT
If you are excited to join this life enriching tribal and wildlife photographic expeirence, now is the time to grab one of only 8 spots. We must receive both your esign registration form and your deposit/s to confirm your spot. Each participant must fill out a registration form, but you may change the quantity on the deposit and make multiple deposit with one transaction.
1. Click this link to access the e-registration form. At the end of the form you will be asked to confirm your email address, which will complete the registration. A copy of your registration will be emailed to you and to Piper Mackay Photo Safaris.
2. Use the button below to make your  deposit. You do not need to have a Paypal account to use this payment service.
CONTRIBUTING TO THE COMMUNITY
Piper Mackay Photography is dedicated to helping the people and wildlife that have inspired us and enriched our lives. We donate a small supply of food to each village we visit. We are mindful to select items that will have sustainability in the harsh environments where they live and are items the women use daily to feed their families such as cooking oil, ugali, maze, beans, etc We build strong relationships with these local communities to ensure our visit generates meaningful contributions to the local economies, especially those helping to protect wildlife, and to ensure a unique cultural exchange for both host and guest.