Three Amazing Locations
October 2-13, 2017
SOLD OUT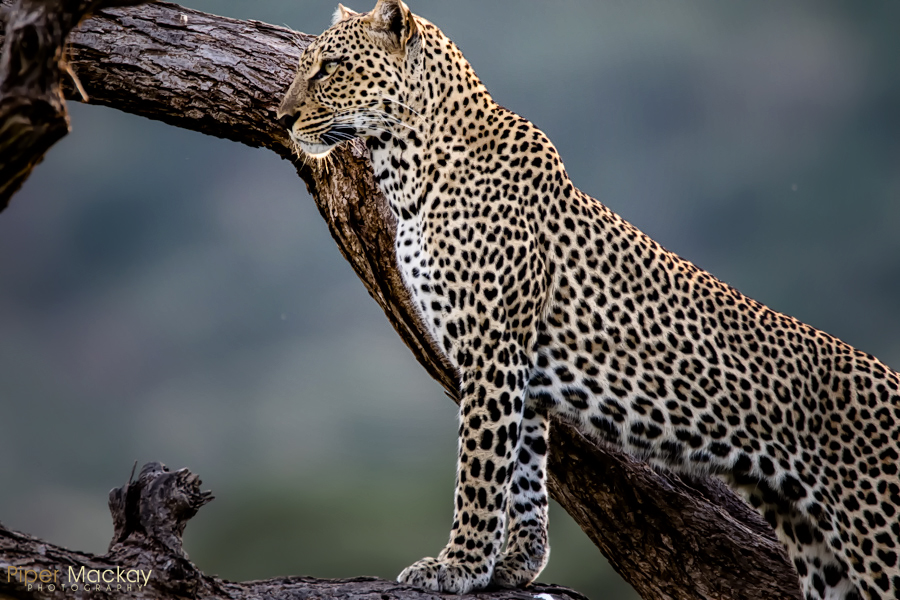 Botswana is one of the most sought-after premier wildlife photographic destinations in the world. This safari has been meticulously planned to cover three of the best wildlife locations, giving you the most diverse environments and the best variety of wildlife photographic opportunities in Botswana, including the Okavango Delta, Savuti, and the Chobe River. This safari is planned during the dry season, when the game viewing is outstanding because the animals are all coming to the delta and rivers for water. While on land, we will be using private, custom open vehicles; you will have your own row to spread out all your gear in order to have it ready at a moment's notice and an unobstructed view from both sides of the vehicle. On the Chobe River, we will be using custom photo boats with seats that rotate a full 360 degrees, and each seat has a mount for your big lens.
The Okavango Delta is one of the most spectacular natural wildlife phenomena on the planet, supporting an ecosystem that sustains one of the highest concentrations of large game animals in Africa. It is remarkable because it is a matchless wetland paradise in the arid Kalahari Desert. Our luxury accommodations are waterfront with some of the best opportunities to see a pack of wild dogs, along with lions, leopards, hyenas, elephants, buffalos, and more. Since we are just outside the Moremi National Park, we can extend our game drives well into the evening with no gate restrictions. We are also able to drive off-road, enabling us to respectfully follow predators and improve our vehicle positioning for photography.
Savute achieved international fame from documentaries such as Eternal Enemies by Dereck and Beverly Joubert with unbelievable lion and hyena interactions as well as the numerous documentaries filmed in the area by the BBC. This semi-arid area harbors one of the densest dry-season concentrations of elephants in Africa. Due to drought conditions in the past few years, the cannel is dry, but water is pumped into a few select areas, drawing all the animals across this dusty environment. Imagine all the drama that is certain to unfold as all the animals cross the expansive savannahs to gather at the same water hole. The dust and light will make spectacular photographs, the kind of images that get to one's soul.
Being on the Chobe River during the dry season is one of the most incredible wildlife experiences offered on the continent. We will be staying right on the river on a luxury houseboat, pulling our custom-designed photo boats along with us. Not only will we be able to be on the water at sunrise and sunset and have more time on the river, but we will also freely move up and down along the river, avoiding the busiest parts of the popular waterway in order to have the best photographic opportunities. From the river, you can expect to see loads of wildlife coming to drink, and the photo boats' shallow draught will enable us to access shallow water to make near-silent, drifting approaches to our subjects, getting eye-level perspectives that are much more difficult to achieve on land. Elephants will not only come to drink from the river but also swim across it, and if we are lucky, they will stop in the middle to play, which is an unbelievable sight. This is also a birder's paradise with a wide variety of species, including African fish eagles, storks, kingfishers and colorful bee-eaters. The rare African skimmer also breads on the river this time of year. With our custom photo boats, these birds are more approachable on the Chobe River than anywhere else
This incredible Botswana safari is being offered to only 7 extremely passionate wildlife photographers. As a participant, you will experience one of the greatest wildlife photography experiences on earth with incredibly unique photographic opportunities.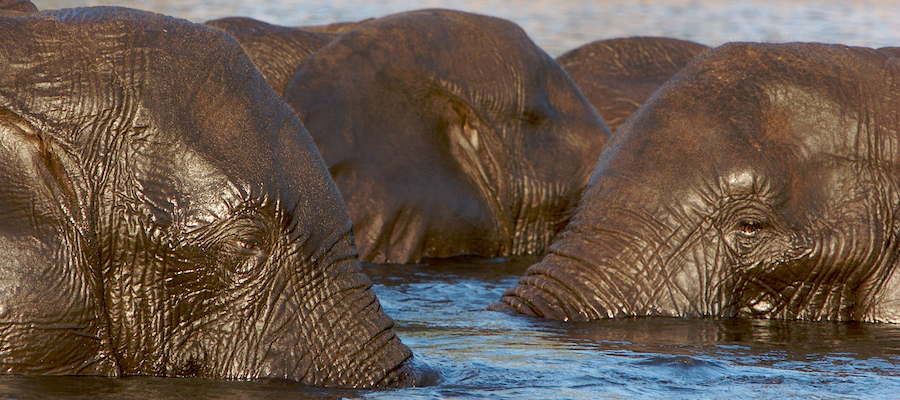 SAFARI HIGHLIGHTS
3 different locations to maximize every photographic opportunity in one of the world's premier wildlife destinations; the delta, Savuti, Chobe River
Small group of only 7 participants giving you more flexibility, freedom, and better group dynamics.
Luxurious accommodations
Exclusive use of a luxury house boat on the Chobe river
We will have private open game-viewing vehicles with only 1 person per row of seating (the vehicles have 3 rows behind the driver, plus a seat next to the driver if you want to be lower down to the ground).
Specially designed photographic boats have individual swivel seats, with mounts for our cameras attached to each chair. The photo boats enable us to make quiet approaches from interesting angles
An increased luggage allowance to 35KG on the in-country flights
This safari focuses on getting quality images. We will push hard to spend most of our time in the field. This trip is all about giving you incredible opportunities to create an amazing, diverse portfolio of exceptional images from just one safari.
THE ITINERARY
October 2, 2017 (1 night)
Arrive at O.R. Tambo International Airport in Johannesburg. After your long flight, you will be able to simply stroll over to your luxury hotel. The intercontinental hotel features a spa, indoor pool, gym, Wi-Fi, and the Quills African restaurant. You will be able to quickly relax and rest up for your safari.
Accommodations: Intercontinental Hotel, Johannesburg
October 3-5, 2017 (3 nights)
After an early breakfast, we will depart the hotel and fly from Johannesburg to Maun and on to the renowned Savuti Reserve, a great way to start our safari in the dusty red plains with skeletal trees that make for some striking photographic opportunities in the dry season. The area is renowned for its sightings of lion and hyena as well as supporting a large population of bull elephants. Cheetahs can often be seen on the plains around the marshes, and the many rocky outcrops mean that leopards are common. If we are lucky, we should also see the wild dogs.
You will be staying at the five-star Savute Elephant camp with 12 luxurious rooms raised on wooden platforms, each with an outdoor lounge shaded by a traditional thatch roof.
Accommodations: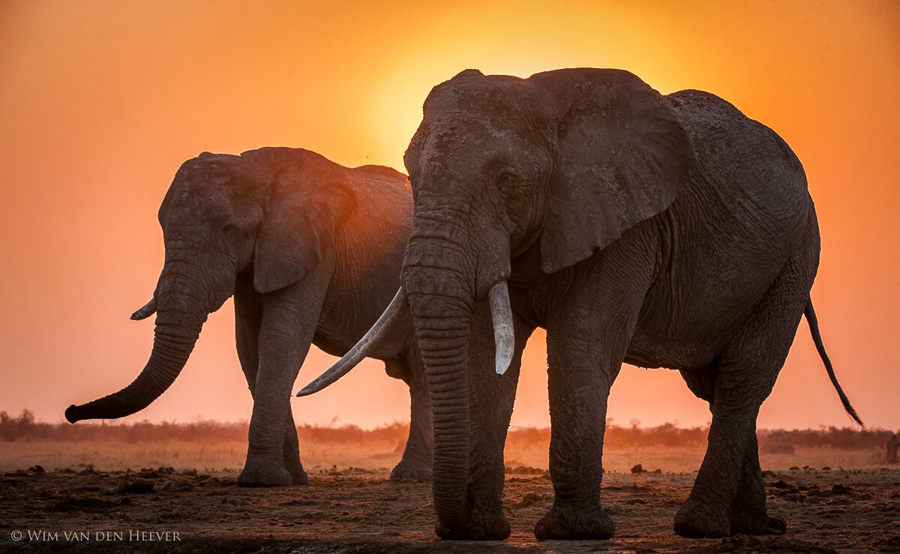 October 6-8, 2017 (3 nights)
After our early-morning game drive and breakfast, we will fly on to the Okavango Delta. The Okavango Delta rarely needs an introduction, as it is one of the most sought-after wildlife destinations in the world. It is a unique environment of floodplains and woodlands, filled with diverse and exotic wildlife. We will be here during the dry season, when the animals move south from the huge Mopani Woodland area in search of water. Not only will we be able to game drive along these floodplains, where the animals will be migrating, but we have full access to the Moremi Wildlife Reserve, renowned for its large concentrations of mammals. It is also one of the most concentrated predator destinations in Botswana.
We will be staying at the five-Star Khwai River Lodge, designed to blend into the surrounding environment that overlooks the vast Khwai River floodplains. It is comprised of 15 luxury tents that are housed on raised wooden platforms, offering great views, and shaded by a traditional African thatch roof. The large private decks are furnished with easy chairs and a hammock, ideal for viewing wildlife. Its exceptional location makes it a regular host to elephants, buffalos, lions, leopards, cheetahs, and wild dogs. As we are staying just outside the Moremi Reserve, we will have the ultimate freedom to drive off roads and do night game drives.
Accommodations: Khwai River Lodge – BLD
October 9-12, 2017 (4 nights)
 After our early-morning game drive and breakfast, we will fly to Kasane, where we will be met by our ground team and transported to our luxury houseboat, which is the best on the Chobe River. Our exclusive houseboat is spread over three levels with multiple decks. The lounge and dining area, located on the middle deck, can be opened on three sides and offers stunning panoramic views. The upper level hosts a viewing deck equipped with table, chairs, and sun loungers, perfect for relaxing as we drift between our private mooring points. The lower deck features five en-suite cabins decorated with solid African rosewood furnishing.
We will spend the next four days cruising along the Chobe River in search of every incredible photographic opportunity. During the mornings and afternoons, we will go out on our own private, custom-built photo boats with fully rotating chairs and fitted with state-of-the-art camera mounts. We will have highly specialized guides with an encyclopedic knowledge of the river and its inhabitants, who will seek out any specific photographic subjects we request. These boats are available at any time during our four days on the boat and are moored alongside should any photographic opportunity present itself as we cruise along the river. We will also have the opportunity to use other tender boats for tiger fishing or to visit a local fishing village and learn a bit about the residents' lives along this iconic river.
October 13, 2017
We will have one last, final morning shoot on the Chobe River before our flight back to Johannesburg in time for our international flights home. International flights should be booked after 20:00.
Why this safari is for you…..
This premier photographic safari caters for only 7 photographers, which affords you more personalized photographic instruction and more flexibility. This is one of the only itineraries in Botswana offering three amazing locations, which will give you an incredible divers portfolio of images from only one safari. Meticulously designed to give you the best photographic opportunities; we will be using private open vehicles with no obstructions, have opportunities for off-road and night game drives, we will be using private custom built boats for photographers, and full freedom to roam on the Chobe River.
During our safari we will see a variety of exotic wildlife, however some special subjects may require spending time watching their behavior and waiting for those special moments. This is when patience pays off, rewarding you with extraordinary photographs. We will spend a great deal of time and effort in the field and quality time with the wildlife—unless it is quiet and the light is too harsh—and we will return to our camp/lodge for the midday break. This means there may be several mornings and some lunches that will involve box meals that we take with us, rather than eating at camp or the lodge. We will be back at our camp/lodge for a nice dinner and drinks around the fire every night.
Since this itinerary is built to spend most of our time in the field, this is not a formal workshop with any planned lectures, slide shows, or formal instruction, but Piper is there to assist you throughout the entire trip. She is generous with her time and instruction and available for questions on any and all photographic topics including business questions on marketing, branding, and creating a niche. When there is an afternoon break, she will be happy to review your images, portfolios, or give an impromptu slide show or talk. This is largely why the group sizes are kept small: so that she can assist you when needed and spend quality time with you in an amazing location.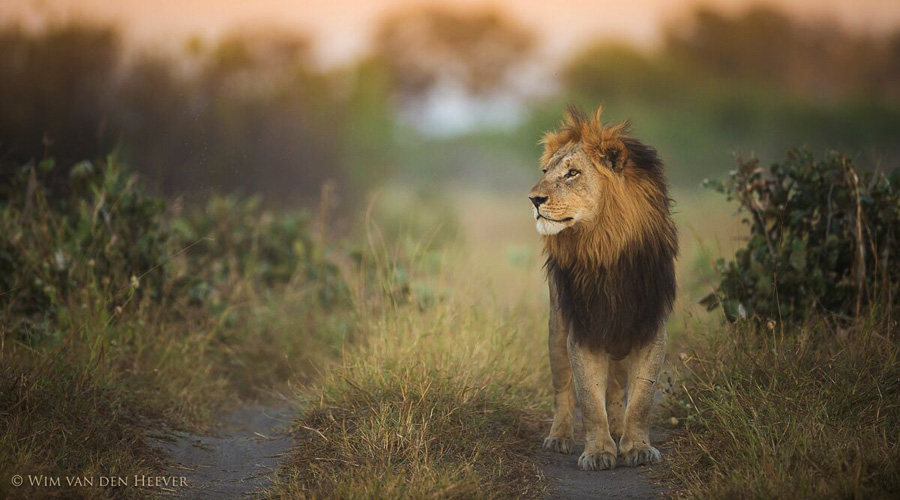 The Price
The price of this premier wildlife photographic safari is  $10,995.00. This price is based on double occupancy.
Single accommodations are extremely limited and cannot be confirm until the trip is sold out. If available, request will be honored in the order they are requested. If you must have single accommodations please inquire prior to registration.
***This cost of this safari is based on a minimum of 6 participants. If there are less than 6 participants a small supplement fee of $695.00 will apply.
A USD $2,500.00 Non-refundable deposit is due at the time of registration to secure your spot. You may purchase travel insurance that will refund your deposit if have to cancel your trip.
Price Includes:
Four In-country flights with extra weight allowance
Airport transfers
11 nights, first class accommodations
Guaranteed row and window seat in private 4X4 Land cruisers
All National Parks fees, Game Reserves entrance fees, and taxes
Pangolin photo boats
Exclusive use of a luxury houseboat
All meals except on arrival and departure days and lunch on Oct 2 and 13
Water, soda, coffee, tea, domestic beer and wine at lodges and camps
Price does Not Include:
Visas
Travel Insurance
Personal purchases (such as curious, spirit liquors, telephone calls, internet, laundry…)
Gratuities for the guides, staff at accommodations, and airport transfers
Optional extra activities not listed on the itinerary
International flights to and from the African Continent
Airport tax $15
REGISTRATION
Click THIS LINK to access the e-registration form. At the end of the form you will be asked to confirm you email. Once you have confirmed your email, a copy of your registration will be emailed to you and our agent.
DEPOSIT
Payment Terms
USD $2,500.00 non-refundable deposit to confirm your place on this safari
2nd payment of USD $3,000.00 is due February 1, 2017
Final payment/Balance is due July 1, 2017
We highly recommend trip and cancellation insurance